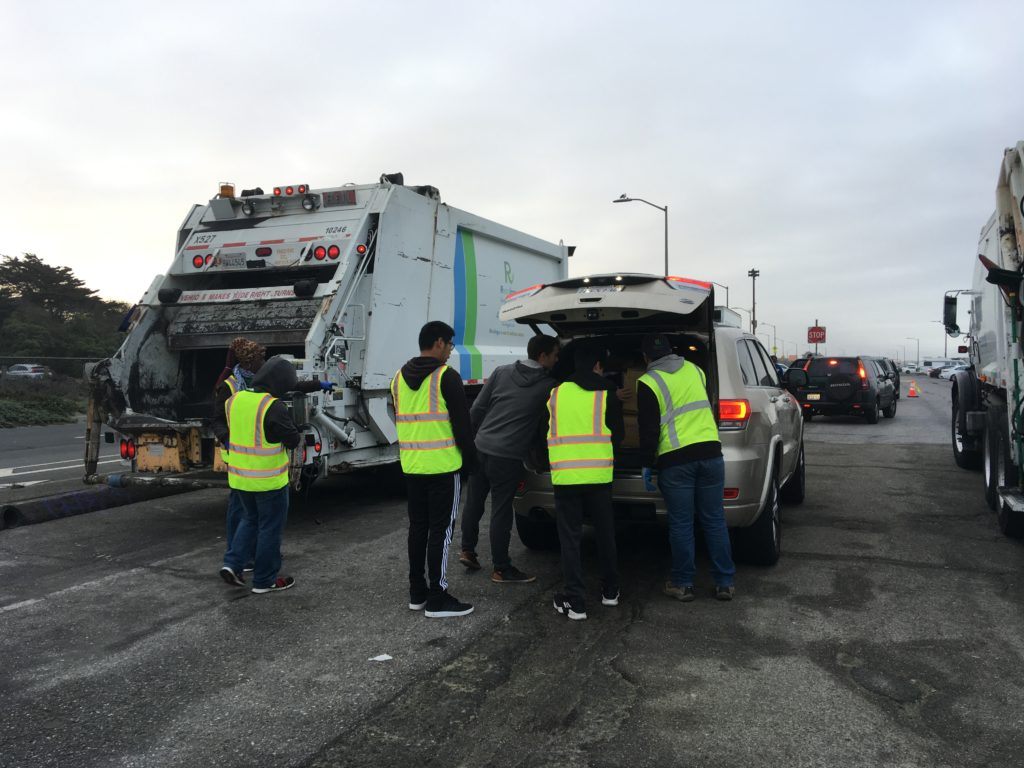 Gigantic 3 Recycling Program
7/8/20: G3 has been temporarily suspended by order of the Department of Public Works until further notice due to an abundance of safety for our staff and volunteers. We are sorry for any inconvenience. Please check back for any updates.
The Gigantic 3 program is a free bulky item drop off service which allows residents to get rid of unwanted household items at various locations around the City, and usually coincides with Public Works' Community Clean Team events. APACC partners with Recology to provide free bulky item drop off, composing, document shredding, and hosts Goodwill ONE SATURDAY A MONTH in TWO district locations from 8 AM to 12 PM (may end 11:30 AM depending if junk containers fill up quickly).
The following items are eligible for dropoff:
Green waste and other compostables including yard waste, landscaping debris and all other organic material such as leaves, grass, flowers, tree and brush trimmings, plants, weeds, food scraps, etc.
Non-recyclable/non-compostable waste including plastic bags, Styrofoam, ceramics, light bulbs, painted or treated wood, etc.
Large or bulky Items

Curbside recyclable material (cans, glass bottles, plastic bottles, cardboard and all paper)

Appliances (water heaters, stoves, washers, dryers, dishwashers, refrigerators, freezers).

Scrap Metal (any item that contains metal, such as a kitchen chair, lamp, pipes, bird cage, bed frame, etc.).

Mattresses and Box Springs (including futon mattresses).

Electronics (including stereo equipment, VCR's, old telephones and microwaves).

Special wastes – The following special waste items can be dropped off at the Gigantic 3 site:

Used motor oil/oil filters. Place used filters in a plastic bag. Do not mix motor oil with anything!

All household batteries (non-automotive)

Fluorescent bulbs and tubes (broken tubes will not be accepted)​

We do NOT accept TIRES!
​Goodwill Industries will be onsite to accept donations such as clothes or small appliances in resale condition. Goodwill will also recycle and reuse computer equipment (limit 5 computers per household). Furniture is NOT accepted.
Please note that the schedule below has confirmed dates and confirmed SECONDARY LOCATIONS:
* =

Asterisks denote locations that provide shredding services and compost giveaway!
Look up your district HERE.
For more information or have questions, call (415) 587-2689 or email info@apaccsf.org
Missed a G3 event day? Please visit Recology's website: https://www.recology.com/recology-san-francisco/bulky-items/
---