Mission
APACC's mission is to help strengthen Asian Pacific American families living in Visitation Valley by providing linguistically and culturally appropriate programs and services. Our clients are mostly low and moderate income immigrant families with limited or no English proficiency. The goal of our programs are to ensure that our clients receive support in the form of education, resources and referrals needed to adapt and become self-sufficient. Our ultimate goal is for families to thrive and our community to be confident, healthy, strong and safe.
What's going on at APACC now?
Updates on Current Services
School Care Hub Program (formerly After School Program) - We are currently full. Please email at info@apaccsf.org for more information if you are interested in enrolling your child. We are only taking in children grades 1 -6 using the requirements from the Department of Children, Youth, and Families.
Social Services are available for phone calls, texts, and APPOINTMENTS ONLY! To make an appointment for face to face assistance, call our office phone: 415-587-2689
APACC now serves a limited food distribution with partnership from District 10 Shamann Walton's office! If you are interested in receiving a daily meal (good for a family of 4), please call our office phone or email us at info@apaccsf.org
VITA Free Tax Preparation Program - Please call our office phone number at 415-587-2689 to see if you qualify for the program, and how to make an appointment if you do!
Coming Soon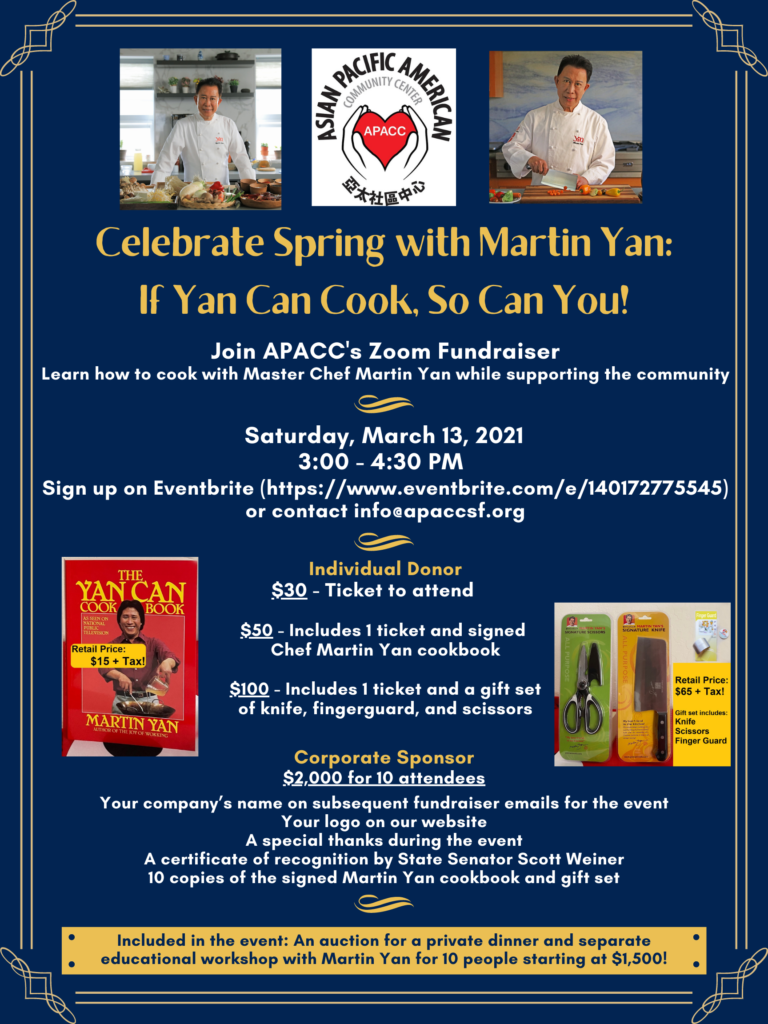 Thank you for the following sponsors for our fundraiser:


---
Please check out details on how to get rid of your bulky items once a month for FREE under "

G3

".
G3 has been temporarily suspended by order of the Department of Public Works until further notice due to an abundance of safety for our staff and volunteers. We are sorry for any inconvenience. Please check back for any updates.