APACC's mission is to help strengthen Asian Pacific American families living in Visitation Valley by providing linguistically and culturally appropriate programs and services. Our clients are mostly low and moderate income immigrant families with limited or no English proficiency. The goal of our programs are to ensure that our clients receive support in the form of education, resources and referrals needed to adapt and become self-sufficient. Our ultimate goal is for families to thrive and our community to be confident, healthy, strong and safe.
What's going on at APACC now?
Did you know there is an election happening in June? Yes, it's time to pick a new mayor on June 5! We at APACC are dedicated to making sure that Visitacion Valley does not come in dead last in voting participation again. We just held a Chinese-language voter information workshop, and many residents were able to register FOR THE FIRST TIME to vote in June!
This year, we have the June 5 Mayor Election and the November 5 Regular Election which will also give Vis Valley residents a chance to elect a new Supervisor of District 10 to represent us!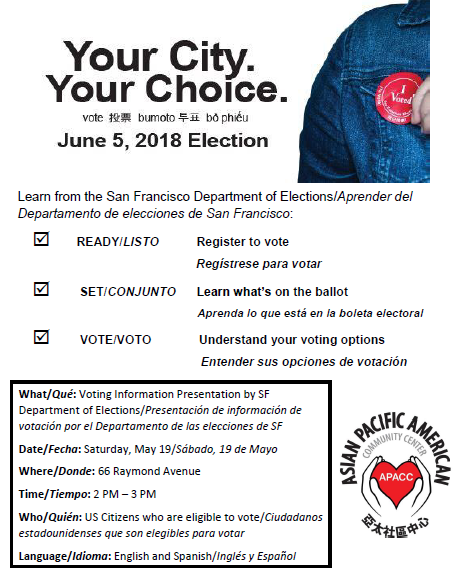 Below are some photos of our Chinese-language voter information workshop!